The Shabby Chic style originated in Britain and is a casual fusion of traditional English, Vintage, French Provincial and Country Style decor. The use of pastel hues, textured surfaces and distressed finishes is prominent in this home decorating style with all elements working together to create a highly tactile living environment with a romantic and soothing vibe.
Learn more about the Shabby Chic style movement in our Shabby Chic Home Style Guide!
Marks & Spencer is a leading UK retailer with over 1,330 stores worldwide – their online portal also ships to the UK, US and Australia, along with many more countries. Click here to see the full list!  Offering free tracked delivery for all orders over $100.00, there is a huge selection of homewares and fashion items to choose from!
After browsing their homewares section, we found several pieces that would be a perfect fit for a Shabby Chic styled home – find our top picks below!
1. Storage Solutions: A great way to eliminate clutter is to use covered storage options such as these gorgeous hand woven Bamboo Baskets! This set of two baskets also comes with matching lids to make sure clutter is conveniently tucked away.
2. Window Treatments: A stylish and elegant window treatment, the Floral Jacquard Curtains come ready to hang and are available in a variety of sizes to suit your home. Made of a quality blend of cotton and polyester, the design is available in three vibrant colours: Duck Egg (pictured below), Lilac and Ochre.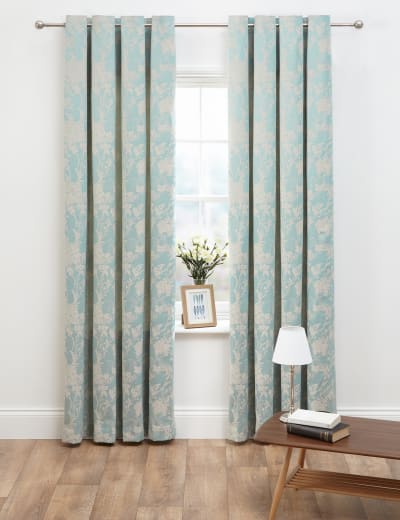 3. Table Decor: Add a cozy and colourful touch to your dining table with this bright and cheery Spring themed table runner. The runner features embroidered imagery of birds and florals atop a neutral backdrop, making the perfect addition for a Shabby Chic styled home.
4. More Table Decor! Birds and flowers not quite your style? Checkout these gorgeous Daisy Lace Runners! Available in three exciting colours: Charcoal, Soft Pink and Duck Egg, the floral pattern and textured surface add a soft element to your Shabby Chic styled Dining Room.
5. Soft Furnishings – Cushions: Featuring a comforting soft Duck Egg Blue, this velvet cushion will blend in well with a Shabby Chic styled decor scheme. Pair with a solid coloured matching blue or beige cushion for the perfect look!
6. Soft Furnishings – Throws: The Natural History Throw is made of 100% Cotton and features intricate imagery over a neutral backdrop, making it an item that lends itself well to just about any colour scheme. The fringed ends make for a cozy finishing touch!
7. Bedding: We love the simplicity of the Florence Bedding Set –  a simple, elegant white backdrop with a burst of flowers and butterflies! The set is pictured below paired with soft pink cushions and a charcoal bedhead, creating a soft, stylish scheme.
8. Bathroom Towels: Add a touch of Shabby Chic charm to your bathroom with Marks & Spencer's exciting collection of elegant towels. Pictured in the image below are the Floral Towel in Duck Egg, and the Wide Striped Towel in Pink Mix.
9. Candle Holder: The Medium Classic Lantern features nature themed imagery on the glass, creating intricate shadows across your space. Create a soothing, romantic environment with a clustered set of lanterns – perfect for both outdoor and indoor use!
10. Florals: No Shabby Chic home decor scheme is complete without a bouquet of flowers! It can be frustrating (and expensive!) to maintain fresh flowers throughout your home; this sweet bunch of artificial white roses comes complete with a classic footed glass vase that is the perfect addition to any space in the home, from your Living room to your Bathroom!