Your home may not receive enough natural light or you may just want to make your house brighter – whatever the case, there is a solution to create the look you are after without the need for new windows or skylights.
Read on to find out how you can make your home home look brighter!
How to Make your House Look Brighter: Plan your Lighting
Ideally, your space should receive a combination of both natural and artificial light. When this is not the case, or the natural light the space does receive is simply not enough, its time to plan your lighting to create a brighter environment. Adding further elements of light to brighten up a room can be a challenge at times, so it is best to take the time to consider your options: Any sort of hanging light fixture such as a pendant lights or chandeliers, can often make a smaller space feel a little cramped so if the room in question is dark and small, steer clear of these options! Instead, opt for recessed downlights as the main lighting of the room and introduce other elements such as wall lights, floor lamps and table lamps to create 'layers of lighting' that will assist in brightening up the key areas of the space.
Make your House Look Brighter using Colour
Use colour effectively in a darker room: brighten up the space by keeping your ceilings white and your walls painted in a soft shade or tint of white. Pastels are also a great option, as they provide a soft touch of elegance and colour while still retaining the room's light. This will create a sense of depth and openness in the space and allow a neutral backdrop that will push the focus onto your selected decor and accessories rather than the walls or ceiling, providing a further sense of space, which in turn allows for a brighter room.
Reflective Surfaces
Introduce decorative items with reflective surfaces that will assist in bouncing the light around the space. Mirrors are the obvious and traditional choice, however metallic accessories also provide a further reflective surface that will assist in moving light around the room, as will glossy paint finishes on cabinetry and glass accessories and decor. Think glossy, clear or metallic decorative items that will add a glamorous and light touch to the space.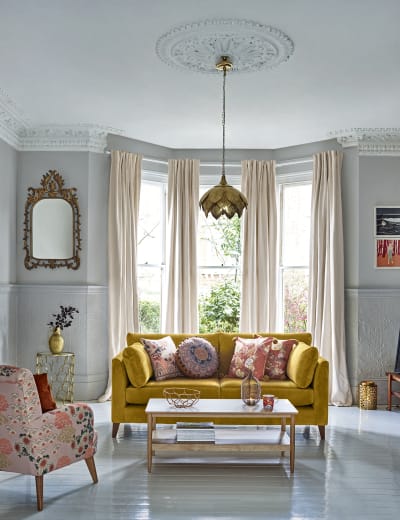 Clear the Clutter
One of our favourite topics – Click to read about Decluttering your Bathroom and Decluttering your Kitchen!
Ensure the space is free of any clutter, thus ensuring that the overall vibe of the space remains free, open and clean. An uncluttered space will immediately feel lighter and brighter – keep all your items neatly stored away in closets or wardrobes, shelving, or lidded storage options such as baskets. Re-arrange your bookshelves to allow the space to display and store items other than books, as in the example below. This look provides a much less cluttered look than a packed to the brim bookshelf!
Lighter Furniture
The actual colour and style of your selected furniture will also play a role in creating a brighter space: opt for lighter tones in your furniture's decor, for example: white painted furniture, light natural timbers, etc.
Also ensure your selected furniture suits the space in terms of size and proportion. Although a couch may fit into the space, the style of the couch may be bulky which will make the entire room feel cluttered, dark and dreary! Ensure your furniture selections are raised off the floor – for example, select a sofa or couch with legs that will raise it off the floor by at least 15cm – its the little touches will act as a way of keeping everythign elevated and looking a lot less cluttered.
Focus on Flooring
The best way in creating not only a more spacious room but also a room design that allows light to travel, is to ensure that you can not only see as much of the flooring as possible but also use a floor finish that contains a slight sheen or gloss to it. This will act as a further means of bouncing light around the room: consider using semi polished or glossy floor tiles, polished timber floors or for a less permanent approach, quality vinyl flooring that also contains a level of gloss or even a rug that uses a combination of flat colour and metallic fibres to create a lustrous finish.
By keeping furniture and storage elevated off the floor, the room will feel a lot more spacious, thus enhancing the free and airy vibe of the space, creating a room that is light and bright!